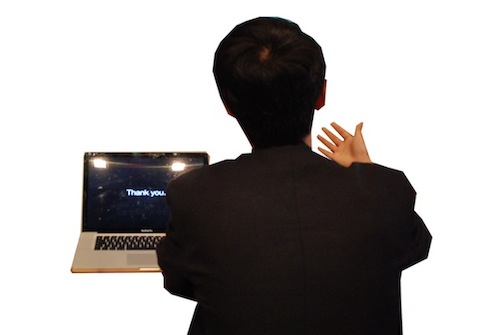 Jack Qiu argues that mobile technologies are not only empowering the Chinese nouveau riche or middle class, but also a much larger group of blue and grey collar workers throughout the country. Examples: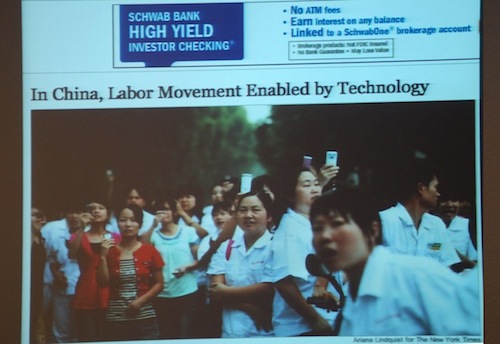 This year Guangdong saw large-scale unrest in factories of Foxcon and Honda, where workers demanded better work environments and higher wages. The angry workers uploaded movies of their protests, shot whith their mobile phones on the government controled website cnworkers.com. For almost two weeks the websited had "blue collar" generated content until it was shut down.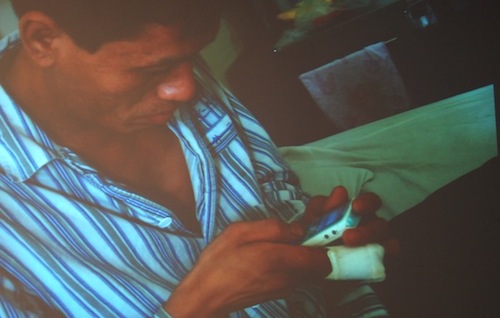 On a yearly basis, almost 40,000 fingers are crushed or lost in the machines in South-China producing electrical devices. In order to know if he/she can get medical coverage, a worker has to know if his factory is officially registered for medical insurance. With a mobile phone with internet this is possible whithin minutes.
New business opportunities arrise. In a  village in Shenzhen, Qiu counted 700 oil painting shops that allow people from all over the world to send them a picture, which they will oil paint and send out by mail.
Qiu recognises a group he calls the Information Have Less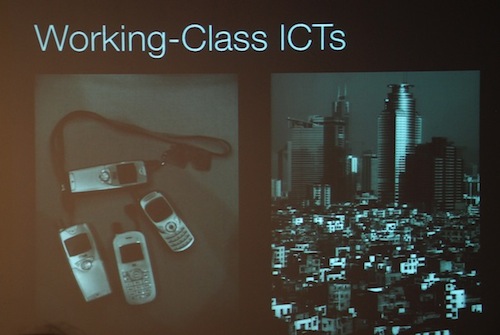 Overview of different low key mobile phones used by Information Have Less
They form a group in between the Information Haves and Have Nots.
They mainly consist of "grey collar workers" that now do programmable labour (e.g. answering phones in call centers, fixing dvd-drives in laptop computers).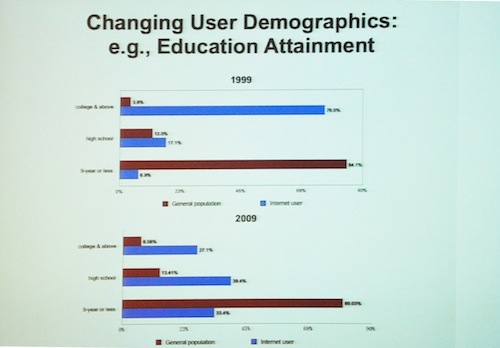 Availability of network services among them is spreading fast. In 1999, 76% of all Chinese internet users had a college degree or higher. Ten years later, this number had dropped to 27%. Qiu: "This means ten years ago three quarters of internet users were college educated. Now three quarters of them only have high school or less."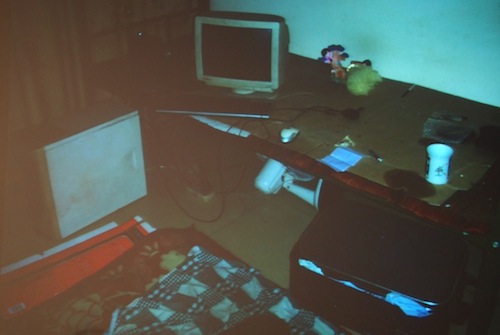 workspace of an internetworker in Xi'an who plays online games to earn tokens, that he sells.
Qiu sees a possibility to rethink the role of labour and class in this new hybrid city. On the long term, there's a perspective for growth of network labour. This fits the ancient Asian model of labour-intensive growth as opposed to the 'western' model of capital-and energy-intensive growth. The 'digital rice paddies' of small companies could be a 21st century economic strategy that fits this Asian model of family-centered economic growth.
Video below: talk by Jack Qiu at 'Designing the Hybrid City'
Additional notes by Michiel de Lange
Jack Qiu challenges the dominant preconception of media technology 'users' as people from the middle class. Initially new technologies were only available to high- and middle income echelons. We presently witness their rapid adoption by the working class. This abrogates the dichotomy between 'information haves' and 'information have-nots'. As a consequence, working class media practices should not be understood in the same terms as middle-class media practices. Qiu gives many examples of specific media practices by the "information have-less". These range from producing their own types of entertainment, enabling new forms of entrepreneurship, to mobilizing groups of people in challenging existing (work) ethics and politics. Qiu extends these shifting demographics and new practices to urban life in the hybrid city. The rise of the 'information have-less' impels us to rethink working-class labor as a networked activity too. Qiu proposes the Chinese model of the "industrious revolution" as a small-scale, family-based networked economy.
Qiu powerfully argues that debates about 'the hybrid city' should not solely focus on high-end technologies and sexy services used by a small tech-savvy avant-garde. Instead, we should look at transformations on a more 'mundane' level (yet every bit as 'exceptional'), namely media adoption and use by the large majority of urbanites who belong to the blue and grey collar classes. Further, his talk suggests that we should not imagine the hybrid city as a logical succession of the global metropolis. Instead, we should pay equal attention to smaller cities and even villages all over the world, which are caught up too in new informational networks that perhaps are not primarily 'global' but rather regional or local. As a consequence, we should not address hybrid city issues by unquestioningly using vocabularies derived from (early modern) European and American urbanism, but instead search for locally specific and cross-cultural concepts. Finally, Qiu points out that mobile media technologies give rise to new forms of culture and identity among the lower classes. Nevertheless, he indicates that a precarious balance remains between the empowering potential of new media, and a lack of media-wisdom (not just access anymore). In Qiu's own words: "The making of a vibrant working-class informational city, to me, is what twenty-first-century urbanization is all about." In this sense, his argument fits well with several projects that were presented during 'Designing the Hybrid City', particularly those that seek to strengthen urban culture at large by bringing new technologies to poorer neighborhoods.