Who are we?
The Mobile City is an independent research group founded by Martijn de Waal and Michiel de Lange. The Mobile City investigates the influence of digital media technologies on urban life, and the implications for urban design. We like to collaborate with institutions, organizations and individuals from various disciplines who share our interest in these issues.
Aims
We aim to understand the ways digital media technologies shape urban life. How is urban life changing, and what are the main challenges and opportunities? More >>
We want to bring these insights back to urban design. How can cities become better and more interesting places to live in? More >>
Activities
Research. We investigate and write about current developments at the intersection of new technologies and urbanism. More >>
Events. We regularly organize and contribute to conferences, workshops, and expert meetings with professionals from a range of disciplines and nationalities to exchange knowledge and collaborate. More >>
Scope
In our view it is no longer useful or even possible to understand urban life as separate from information and communication technologies. Today's cities are shaped by a wide variety of digital technologies, with acronyms like GSM, GPS, CCTV , UMTS, LBS, AR, Wi-Fi, and RFID (or in plain English: mobile phone networks, satellite navigation, security camera's, wireless data communication systems, location based services, augmented reality, chips and sensor-networks).
The city is physical and digital. It has become a 'hybrid city'. Developments like these profoundly change our ideas of time and space, culture and identity, solidarity and citizenship.
As a consequence, urban design is expanding beyond architecture and urban planning. It includes all disciplines that contribute to the shaping of urban life: from architects and urban planners to policy makers; from media developers and artists to telecom companies; and from technology research to urban anthropology. We claim that the design of the hybrid city benefits from the mutual involvement of multiple disciplines.
In order to provide directions to the broad emerging field of new media urbanism, we specifically focus on three issues:
Home. How to feel at home amidst the diversity and tensions of urban life?
Ownership. How to evoke engagement with urban life and provide opportunities for citizens to act?
Play. How can playful interventions, from storytelling and art to urban gaming, stimulate unexpected encounters and enrich urban life?
Board
The Mobile City is a foundation with two founding directors (Martijn de Waal and Michiel de Lange) and three board members. Members of the board are: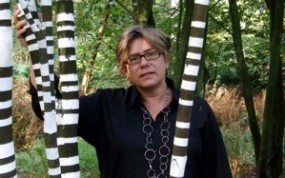 Chair: Emilie Randoe
Emilie Randoe (1963) is founder and director of Randoe Verandermanagement, a company specialized in enabling people to organize change in organizations or in networks of co-creation. Randoe Verandermanagement works for a variety of clients in sectors such as education, design, creative industry).
www.randoeverandermanagement.nl

Treasurer: Frank Kresin
Frank Kresin is currently Research Director at Waag Society and responsible for its research programme. It encompasses the fields of health care, cultural heritage, education, the public domain, urban reality and arts-science collaborations. Frank has a background as filmmaker; he has a master degree in Artificial Intelligence and served as programme manager at the Dutch Digital University Consortium.
www.waag.org/en/person/frank / (image credit: Marco Baiwir 2009)
Secretary: Marthijn Pool
Marthijn Pool is an architectural entrepreneur and founding partner of Space&Matter, an Amsterdam-based office for architecture, urban planning and concept design. Martijn has previously worked for various well-known architecture offices, and is a regular speaker at conferences and institutions worldwide.
www.spaceandmatter.nl
Contact us
If you want to get in touch or wish to collaborate, please reach us at info@themobilecity.nl. See the Contact page for more details.
Partners and sponsorships
The Mobile City wishes to thank its sponsors, partners and contributors that have enabled us to keep up this website and organize our events.
For 2011-2012 The Mobile City has received a generous grant from the Pauwhof Fonds.
The Mobile City collaborated with (amongst others) Virtueel Platform, ARCAM, Shanghai eArts, Waag Society, The Architectural League of New York, Kitchen Budapest, V2_, Cybercity Ruhr and Dynamic City Foundation, the Dutch Culture Centre (DCC) in Shanghai, the Netherlands China Arts Foundation, the International Architecture Biennale Rotterdam (IABR), the Netherlands Architecture Institute (NAi) and the Royal Institute of Dutch Architects (BNA), the research groups New Media, Public Sphere and Urban Culture at the University of Groningen & Playful Identities at the the Erasmus University Rotterdam & Utrecht University. And we received grants from the Rotterdam municipality, the Rotterdam Trustfonds, and the Netherlands Organisation for Scientific Research (NWO).