With the coming addition of the Dutch part of Google Streetview, my street won't be the same.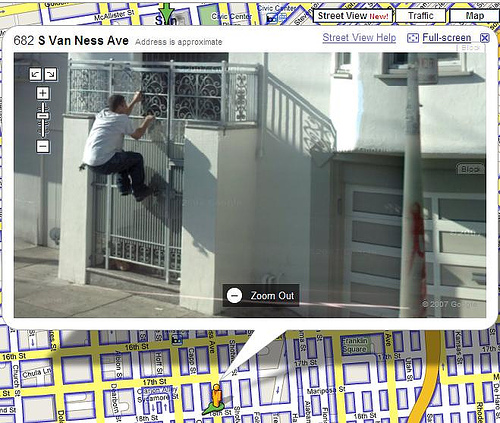 Well, that's not true. Here in Holland these pictures-of-streets services have been in use for some time. But those pay-services were focused on official use, often being used by government agencies and businesses. But now, with Streetview, these imaging services have been given a wider audience, their existence radically exposed. As the 500 million dollar project makes more and more of its European data available, the Dutch version can't be far off. The Google cars were spotted in Amsterdam and Rotterdam at the end of 2008.
But what do you do with Streetview after you've looked at your own house through what is yet another realworld-internet hybrid? You go see what other people's houses look like. Other people's lives.
Where most maps strive to come across as reliable and objective in order to spread the word, Streetview has (unwantedly) taken a more theatrical route. The stream of funny tidbits it has photographed seems never ending. It's not just a reality show either, people actively stage performances around it, from flashing bodyparts to staging self-described art. People are aware of it.
Personally I like it, one way of defending against over-databasation is by overloading the databases themselves with silliness. I want to go further. Carry smokegrenades maybe, or change all the signs into something ridiculous just before the streetview car arrives. Create detours. Maybe we can just hide. That would work well if someone follows them in a car with a speaker system that repeats "smile, you're on candid camera". Oddly enough it feels difficult to jam google here, as It's impossible to predict what myriad of uses will be found for it.
The other way to limit Streetview would be to protest against it. After protests google has promised to make faces unrecognisable. An interesting case is the car itself. In a way it's the Google cars themselves that are scrutinised the most, as they can most easily be held accountable. A while ago they were stopped by the police, and about two weeks ago a streetview car hit a deer. The whole event could be seen unfolding over a number of photographs.
Funnily enough, when a driver of one of google's cars was being photographed himself, he
asked not to be photographed
. I wish the interviewer had replied "don't worry, I'll blur your face" only to take the picture anyway.
It's the main issue surrounding all this: does being public still have that paradoxical anonimity of being lost in the masses? If you're in the public, can you expect to be photographed and be placed online in a database that links that photo to a location? I know there's no law against it, but who could have foreseen this? It's an issue we never had to think about before. It's an issue I never had to think about before.
And that's why my street won't be the same.